Integration with BaseLinker
The integration allows you to download orders from
BaseLinker
and assign them to messages from Inbox in
Responso
.
In the message view on the right, a panel will appear with information about the order status and a link to redirect to the
BaseLinker
panel to a specific order.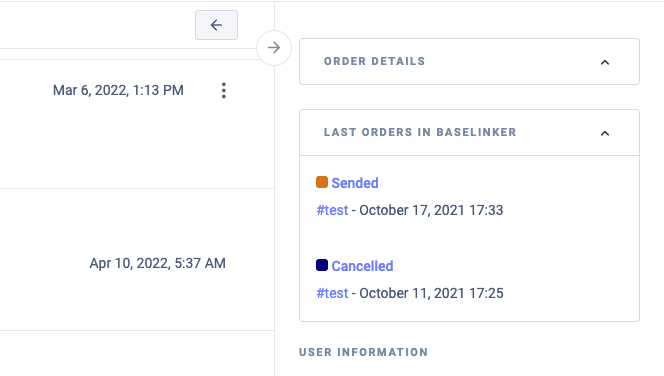 But that is not all. Thanks to the integration, you will also extend the functionality of BaseLinker. In the BaseLinker itself, in the order view, a panel with messages assigned to that order from
Responso
will appear. You don't need to install a plugin.
Add integration in a few simple steps.
To integrate the
Responso
system with
BaseLinker
, you must associate the account with our system. To do this, go to the Settings> Integrations>
BaseLinker
tab, then add your
BaseLinker
accounts.
If you want to activate the integration from the
BaseLinker
level, proceed as in the video below.
For the integration to work properly, you need to redirect e-mails from the mailbox to which notifications come. Instructions for redirecting messages to
Responso's
systems can be found at this link.
After correct integration, additional information downloaded from the
BaseLinker
system will appear in the message view.
In addition, by going to
BaseLinker
in the Orders tab, we will find integration with
Responso
in which you will find all available messages or after opening a specific order, the correspondence assigned to this order will appear below. To do this, go to Orders> All, then go to a specific order.